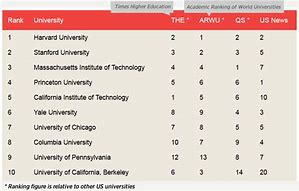 "The only college ranking that counts is your own!"
There are 15 factors that go into the U.S. News college rankings, weighted by degree of importance. Of course, we should expect the top 7 to include-
The 4-year graduation rate

T

he college job placement rate

T

he average salary of first-year jobs out of college

I

nternship opportunities

R

esearch opportunities

S

tudy-abroad opportunities

B

readth and depth of study programs
These are certainly among the key items that everyone looks for in determining the value and quality of a college, am I right?
I ask this because families across America often pick and choose colleges largely based on rankings when actually none of these items (
none as in 0
) are factored into college rankings at all. How absurd is that? 
The # 1 highest weighted factor with a weight of 18% that determines college rankings is the-
That's 6 years to graduate, not 4! Who budgets for that? This is why the only ranking that counts is your own!
Join us for much more on this and other important college matters on
my next webinar-
Hans