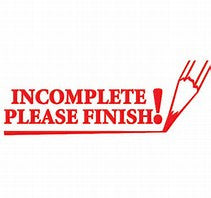 Most students submit incomplete applications. 
That's crazy, but that's what happens when people rush, or they don't know what they're doing, or they get bad advice. One of those three things happen to the majority of high school students in preparing their college applications. Not our students though! 
Examples of incomplete applications:
- "Activity" list is short, activities are not described well
- "Board Scores" are not self-reported
- "Essay" is missing a title
- "Additional Information" is responded to with "No"
- Responses to "Supplemental Q's" are weak
- "Senior Class Schedule" is not fully completed
- "Future Plans" are responded to with "Undecided"
- "Resume" request is left without attaching one
Any one or a combination of these items leaves the application incomplete and quickly serves to weaken the applicants prospect for admission acceptance. 
Our Top 10 Admission and Scholarship Tip-
# 6- Be certain to complete every box on the college application and respond to every request for information; do not rush through the application as it is easily detected. 
That makes perfect College-Logical sense to me, though it's anything but typical. 
You're not sure if you want to tackle this yourself? No problem, we can help you do it. Contact us and we'll get it done.
------------------------------------------------------
If saving college cost interests you, then this book is a must read- 
Dissecting the Big Business of College
Hans
Founder CollegeLogic
Office # 203.470.3704