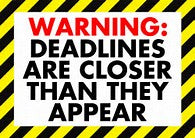 "We preach, teach, and coach the value of submitting applications early for good reason."
Long in advance we plan to have college admission applications submitted by Labor Day. We know-


- many schools give preferred acceptances and increased scholarships on early applications

- once senior year begins, students get busy with school activities delaying applications

- with Nov. 1 deadlines for EA and ED, students are left scrambling to get their applications submitted

Why do so many people think that just beating the deadline equates to being on-time? It doesn't!

Last minute and rushed applications are easy to spot by admission counselors, reflecting tardiness and less serious interest. They compromise admission acceptances and potential scholarships. It's that simple, yet that elusive.

So here we sit on November 1, with much of the country's high school seniors hurrying to get their Early Action or Early Decision applications submitted; many who don't even have their essay finalized. This is a prescription for denials and deferrals.

As this day arrives each year, it's living proof for the value and benefit of getting applications done early.
While others are scrambling, our students and athletes are following up and following through to facilitate their acceptance and enhance their college situation. You can too.
CollegeLogic leads the pathway for families to take action and get college right.

To find out how we do it, call or email us today. 
-------------------------------------------------------------------------
Speaking of getting ahead, this book is an absolute must read if you would like to save on college costs- 
  Dissecting the Big Business of College

Hans